With a core range of natural fertilisers and biostimulants, BioAg can offer an extensive range of products certified by Australian Organics, suitable for use in organic systems.
Recognising that farmers on-sell to a range of markets utilising different certifying bodies, BioAg can evaluate options to meet a customer's needs. As an example, BioAg has secured USDA NOP certification for a range of core products.
Talk to a BioAg representative regarding your nutrient program, accreditation needs, and how a BioAg program of certified organic inputs can supplement your current practices to optimise yields.
 Benefits
Delivers long-lasting, sustained release of nutrients
Reduces fertiliser loss due to common issues such as leaching and lock up
Safe for use on all areas of the farm
A natural and sustainable alternative to conventional fertilisers.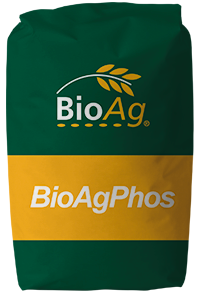 BioAgPhos
Solid Fertiliser
Highly reactive phosphate fertiliser made from high-grade reactive phosphate rock combined with BioAg's microbial digesting agent.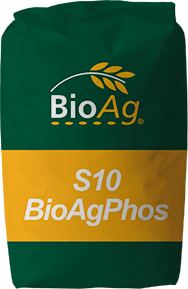 S10 BioAgPhos
Solid Fertiliser
Provides elemental sulphur in the form of sulphur bentonite. Ideal for higher rainfall and higher leaching environments.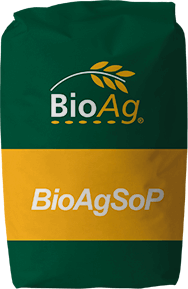 BioAgSoP
Solid Fertiliser
Organically certified granular form of fertiliser containing potassium and sulphur. Immediately available to crops and plants. Ideal for crops with a high potassium demand and sensitive to chloride.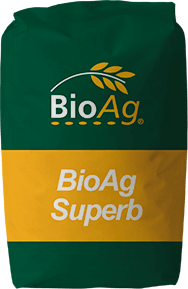 BioAg Superb
Solid Fertiliser
Incorporates calcium sulphate in the form of gypsum in BioAgPhos. Ideal for soils that need phosphorus, sulphur, and calcium, such as pastures and grazing, and for crops requiring extra sulphur, such as canola.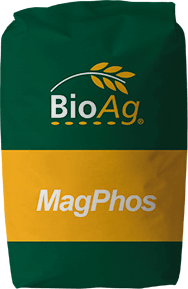 MagPhos
Solid Fertiliser
Incorporates dolomite in BioAgPhos. Ideal for soils that need phosphorus, sulphur, calcium, and magnesium, such as pastures and grazing systems where there is a risk of grass tetany.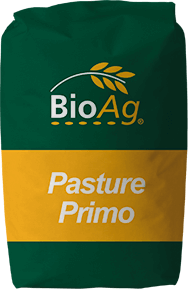 Pasture Primo
Solid Fertiliser
Provides a rich source of calcium and phosphate through a blend of BioAgPhos and lime.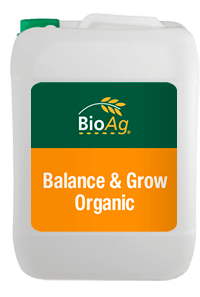 Balance & Grow Organic
Biostimulant
Formulated to increase vegetative growth, root development and soil microbial activity. Ideal for broadacre, pastures and horticulture.
Fruit & Balance Organic
Biostimulant
Formulated to increase flowering, fruit set and soil microbial activity. Fruit & Balance enhances the nutritional value and quality of fruit or grain by increasing sugar levels in the plant.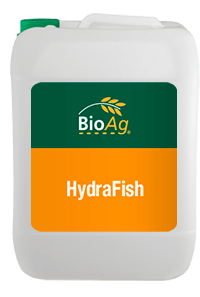 HydraFish
Biostimulant
A natural and organic source of nitrogen, HydraFish is a source of nutrients derived from fish
HydraHume
Biostimulant
A liquid solution of Potassium Humate providing a product suited to building soil humus and increasing soil fertility.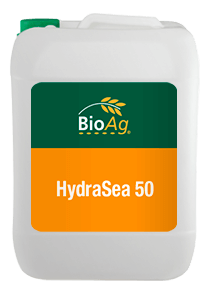 HydraSea 50
Biostimulant
A natural seaweed extract that delivers a number of beneficial organic compounds and minerals to crops and pastures.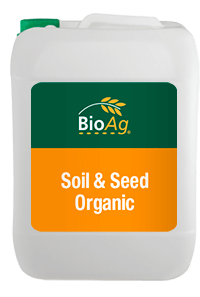 Soil & Seed Organic
Biostimulant
Formulated to improve soil microbial activity, natural soil fertility and moisture and nutrient utilisation.
Digest-it for Effluent
Digester
Formulated to improve the breakdown of solids and the retention of nutrients in captured animal effluent. Provides a range of food sources and metabolites that promote aerobic digestion in effluent streams.
Digest-it for Stubble
Digester
Formulated to accelerate the microbial breakdown of cellulose and other plant matter. Digests stubbles, residues, and other organic wastes into humus. Ideal for use as a compost starter.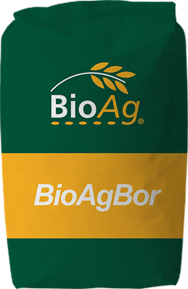 BioAgBor
Trace Element
A sustained-release form of boron suited to a range of enterprises such as horticulture, vegetables, pastures and field crops.
BioAg Zinc
Liquid Fertiliser
A liquid fertiliser solution of zinc. Ideal for use in a range of farming enterprises, especially when addressing and preventing zinc deficiencies.
Certified Organic resources
Riverina Organic Wine Grape Vine demonstration

Investigating the benefits of a BioAg nutrition program for organic grapes, to evaluate the impact on grape harvest yield and quality.

Organic dairy case study, Sunnyside TAS

Accidentally organic. Mark and Roslyn Lambert, along with their nine children, are certified organic dairy farmers from Sunnyside in north west Tasmania. Although their transition from conventional farming to fully certified organic practices was completely unintentiona...

Challenge accepted: Improving organic grape production

A Riverina wine producer has been seeking ways to improve their crop of organically grown grapes.

Andrew Dalglish and his father Charlie have been customers of BioAg for some 20 years, originally in NSW's Riverina region, and these days in the Northern Territory. Andrew is the owner of Foxalicious Fruit, a Katherine based organic mango and asparagus farming operatio...