Demo and trial results for all to see
Growers in NE Victoria and SE New South Wales are really taking notice of the effectiveness of BioAg's products and programs. With extensive demo sites and strategic trials, both independently and with key resellers, BioAg has improved its awareness in the region.
Previously replicated trials have demonstrated the benefits of using BioAgPhos against commonly used fertilisers by producing the same, if not more, production through biennial applications with similar cost comparison. Likewise, applications of Balance & Grow during winter have demonstrated increased efficiency and dry matter production. Additional yield is achieved when applied with nitrogen and/or gibberellic acid.
As we move out of winter, Peter Emerson, BioAg's agronomist in the region, will continue to investigate the benefits for BioAg's liquid programs through trials such as Soil & Seed with nitrogen on pastures. Late winter to early spring is the perfect time to look at applying Soil & Seed at 4L/ha with pre/post sow herbicide sprays for new spring sowings such as lucerne or summer crops and forages.
If you're looking to boost pasture growth and crop health, using Balance & Grow at 2-3L/ha with UAN or other liquid fertilisers will increase the effects and help improve the plant's nutrient uptake.
Spring also provides an ideal time to look at reducing crop stress through foliar sprays at reproductive plant stages, helping to protect them from environmental factors such as frosts or rapid dry period onset. Peter is working with growers already on large scale strips where Soil & Seed at 4L/ha was injected at sowing under cereals and pulses, with the next stage to look at applying Fruit & Balance with CuZin over cereals, and with CalNitSol over pulses or canola.
These demos and trials of BioAg's products and programs continue to highlight the benefits of improving soil health and biology, and using the natural biome to give more consistent production year in, year out.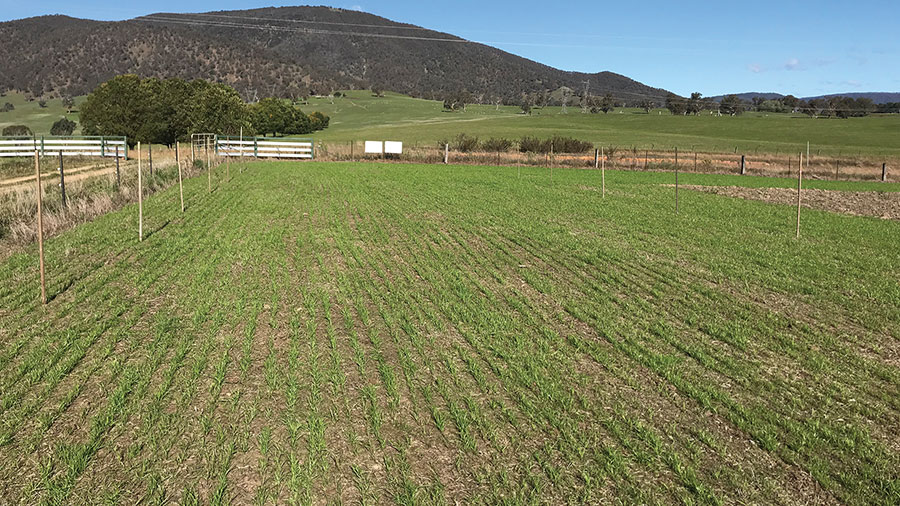 This photo, taken April 2020 in Corryong, clearly shows where strips of fertiliser have been applied for demonstration purposes.
Second photo taken in the same spot in mid-July 2020. In the left half of the photo, you can clearly see additional growth that benefitted from BioAg Balance & Grow, 2L/ha applied 25 days earlier.