BioAg program underpins Oaten Hay success
Colin Falls is a fourth-generation farmer with a property at Dingee, Victoria, that has been in his family for over 100 years. Over the last 20 years, Colin, in partnership with his son Jacko, has been working with BioAg and hence has an excellent frame of reference to base his observations.
This property was used in a BioAg case study, extolling the virtues of using customised programs and products.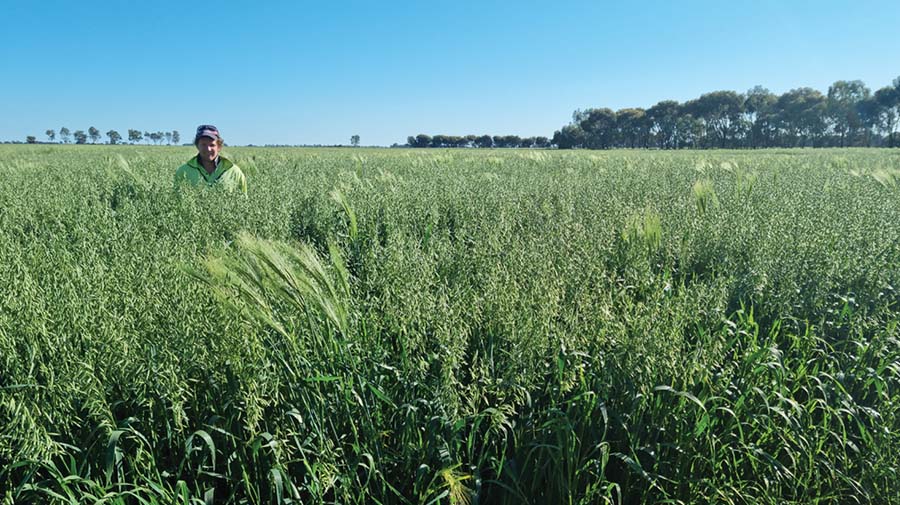 "The BioAg programs we have been provided address the health of the soil as well as providing for the overall plan. And from this, we have seen a consistent increase in the quality of our crops. The program has more than paid for itself."
Colin uses oats as a break crop with last year's oaten hay crop – an opportunity to profit by extending his cropping rotation.
As it turned out, it was particularly successful for him.
In 2021, inputs were modest with 50kg/ha MAP and 3L/ha Soil & Seed at sowing. At early tillering, 50kg/ha of urea was top dressed. At mid to late tillering, 2L/ha of Balance & Grow combined with 10L/ha of liquid calcium nitrate and 10L/ha of UAN was applied by boom spray. Colin's hay crops were cut during the first week of October, leaving standing straw at beer-can height, carefully windrowed into 'thatched' rows to help facilitate maturation and maximise the quality of the final product. The hay was baled into large squares in the last week of October and delivered to the local hay exporter.
Colin yielded 7 tonnes per hectare, and at $230 per tonne delivered locally, he was delighted with the return achieved on his inputs. In addition, the grade of the hay Colin delivered was the highest possible grade – Super Premium.